About Bharatpur Bird Sanctuary
The Keoladeo Ghana National Park, often called the Bharatpur Bird Sanctuary is situated in Bharatpur, Rajasthan between Agra and Jaipur. The name 'Keoladeo' is derived from the name of an ancient temple devoted to Lord Shiva located in the heart of sanctuary. The park covers an area of 29 sq km of which 11 sq km is marshy land. The area was converted into a world famous wildlife reserve by Prince Bhamji of Morvi state in Gujarat. The indiscriminate shooting of birds was banned by government in 1965 and the efforts of Dr. Salim Ali towards the conservation of birds were successful when area was declared a national park in 1982. The spectacular park is a reserve of birds and also a breeding and feeding grounds for migratory birds in the world. 
Inhabitants
Various species of birds at Bharatpur sanctuary
The Bharatpur bird Sanctuary has over 370 species of birds including water birds, waterside birds, migratory water birds, land migratory birds, and domestic land species. Every winter(from October to February) huge numbers of birds migrate from Europe and Siberia including the rare Siberian Crane. Siberian crane travels almost half the world, covering a distance of 6.500 km to migrate to Bharatpur from Ob river. The other visitors include Spanish Sparrow

, Coot Snipes, Rosy Pelican and Flamingo. This sanctuary has birds as huge as Dalmatian pelicans(which is two meters in length) and as small as the Siberian leaf warbler(which is size of index finger). The species of cranes found here are egrets, darters, corcomorants, herons, storks, geese, ducks, eagles, hawks, shanks, stints, wagtails, flycatchers, buntings, larks, spoonbills, kingfishers, owls and pipits. The place has therefore become an important destination for Ornithologists from world over.
Mammals
The mammalian species housed are nilgai, sambhar, chital, wild boar, jungle cat, black bucks, python , the mongoose.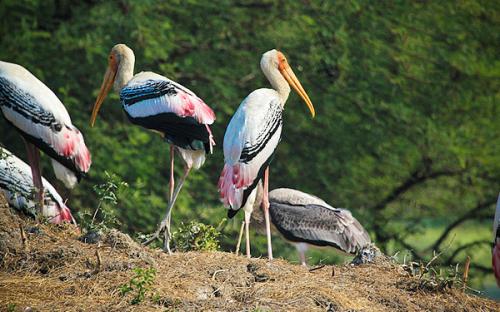 The Nearby Attractions
Bharatpur has various other places one can visit, besides the sanctuary. These include – Bharatpur Government Museum, Bharatpur Palace, Lohagarh Fort, and Deeg Palace. The city center is a 3 km from the park, where the visitors can go for shopping . Even the city of Agra, is just 55 km from Bharatpur, which in itself has various monuments and historical places to be visited.
Things to do
Safari
Being at Bharatpur sanctuary one can take an early dawn elephant back safari with an authorized mahout guide. Even the Jeep rides can be arranged at the Tourist Centre.
Fun of cycle and rickshaw ride
To cover the interiors of sanctuary there are well defined tracks to walk along. Besides there are also available cycles or rickshaws on hire. Cycle rickshaw pullers are trained by the forest department in bird watching and are knowledgeable.
Trip of lake
For the trip of lake, the boats are available which give a wonderful experience in evening and early morning.
Ideal Time to Visit
Though this Bird Sanctuary is open throughout the year, the best time to visit are from August-November( period of resident breeding birds) and October- February( period of migrant birds) 
Where to Stay
There are comfortable accommodation available at sanctuary like the Bharatpur Forest Lodge, Forest Guesthouse, Saras Tourist Bungalow. the Circuit House, Hotel Golbagh Palace, Shanti Kutir, and the Tourist Lodge near the sanctuary's Mathura gate. 
How to reach
Bharatpur is between Agra and Jaipur highway.
By Road
It is just two-hour journey by bus from Agra (55 km) and an hour from Fatehpur Sikri. Also are available buses that link Bharatpur with other parts of Rajasthan.
By Train
Rail junction of Bharatpur is nearest and is well connected to Delhi, Bombay, and many other cities of India.
By Air
The nearest airport is that of Agra, from where one has to travel by road.