About Ranthambore Park
Ranthambore park is situated in Eastern Rajasthan near the town of Sawai Madhopur. It is surrounded by the Aravalli and Vindhyan Hill ranges. Once the hunting place of the Maharajas of Jaipur, this park was converted into a sanctuary in 1955 and later into a national park in 1980. It is listed among the reserves protected under Project Tiger (1973). 

The forest covers a total area of 1,334 sq kms with the core area of 392 sq kms. Being located in the fringes of Thar desert, the vegetation of the forest is mainly deciduous. The forest comprises of Banyan Trees, Pipal trees, clusters of mango trees and is mostly covered by Dhok trees. 

The Tiger Reserve
Ranthambore is the reserve of tigers. Here, one can spot tigers very often. Because of conservation efforts, the tiger population has stabilized, if not increased.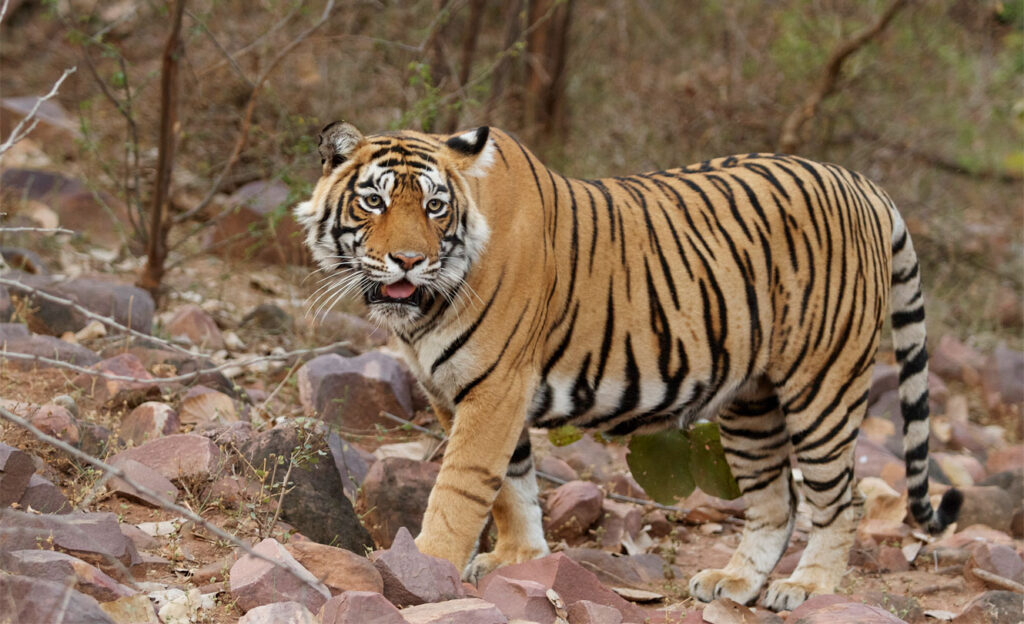 The place is further beautified by 6 man made lakes and the perennial streams that criss-cross the entire park. Water bodies in Ranthambore have lovely lotus flowers and water lilies. 

Inhabitants
The place is usually visited because of its major attraction, Tigers but the forest also has number of other animals that includes – Sambar, Mongoose, Panthers, Chital, Nilgai, Gazzelle, Indian Hare, Boars, Monitor Lizards, antelopes, nilgai, sambhar, chital, sloth bear, wild boar, chinkara, porcupines, jackals, leopards, jungle cats, fox, hyena, gazelle, and jacanas. The park has around 260 species of birds including white-necked storks, Indian horned owl, black storks, quail, partridge, spur fowl, paradise flycatcher, peafowl, crested serpent eagles, Bonelli's eagle, graylag goose, ruddy sheiduck and pintails. 
Things to do
Wildlife watching
At Ranthambore there is plenty of opportunity for doing some hardcore wildlife-watching. Here you can spot tigers at all the hours of a day, hunting and taking care of their young ones.
Photography
Being at Ranthambore is having in hand, a great opportunity to capture the pictures of animals and nature, as they are. Ranthambore park is considered as one of the best places in the world for wildlife photography.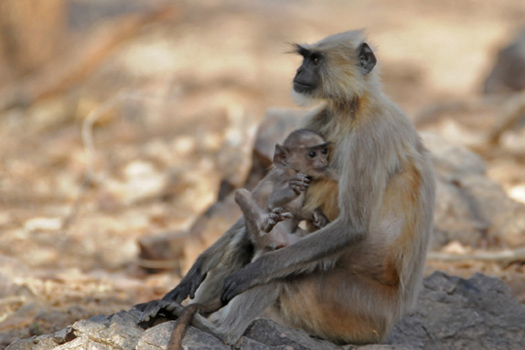 Other nearby attractions
Ranthambore Fort
Is a majestic 1000 year old fort, built by Chauhans, in 10th century. The tanks and temples, seven gates, and a crowing flat topped hill add beauty to the fort.
Jogi Mahal
This is lovely Mahal whose premise has the second largest banyan tree in India.
Ranthambore Tiger Reserve
The Ranthambore Tiger Reserve has the most famous Ganesh temple in the state of Rajasthan. This temple attracts number of people whole year and specially during Ganesh Chaurthi.
Ranthambore has much more in store for one to visit than just the park. The nearby places like Sawai Madhopur village, Karauli, Bundi, and Kota are known for their many historical monuments, temples, and architectural marvels.
The ideal time to visit Ranthambore
The most suitable time for visiting Ranthambore national park is during the months of October – March and April to June.
Stay at Ranthambore
On visiting this wonderful place you can stay at comfortable accommodations available, which are mostly around the national park. There are heritage hotels, hotels and rest houses of Rajasthan Tourism Development Corporation(RTDC). Taj group also has one hotel here and a logde, The Maharaja Lodge which provides world class accommodation. The accommodation managed by RTDC include forest rest house, Jogi Mahal inside the park and Hotel Kamadhenu, Joomer Baori forests lodge. Besides there are few local and private accommodation available too.
How to Reach
The Ranthambore national park can be easily reached by air, road and rail from the all major cities of India.
By Road
Sawai Madhopur, the nearest town from Ranthambore is well connected to all the major cities within the state of Rajasthan.
By Train
The town, Sawai Madhopur which is 11km from the park provides nearest railway head.
By Air
The nearest airport is that of Jaipur, which is about 145 km away, after which park is accessible by road.