Sariska Wildlife Sanctuary
About Sariska National Park
Sariska National park is 200 km from Delhi, near Alwar in Rajasthan. Dominated by hills and narrow valley of Aravali range, area is covered by dry deciduous forests, rocks and grasses. It covers a total area of 800 sq km, with core area around 492 sq km. The area was declared a sanctuary in 1955, came under The Project Tiger in 1979 and was became a national park in 1982.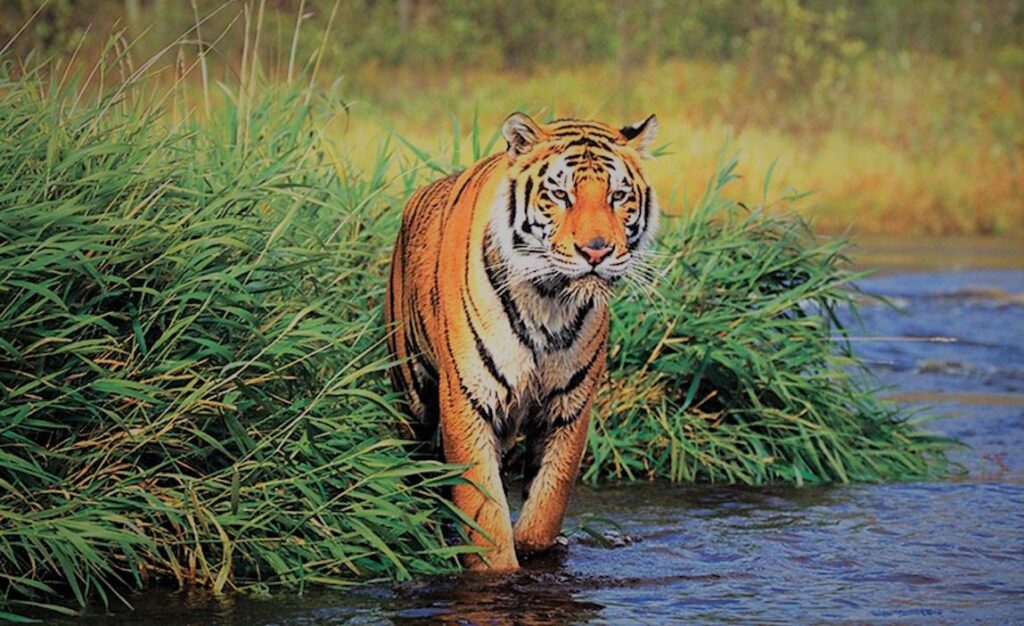 Inhabitants 
The park has various animals – Leopard, Hyena, Jackal, Tiger, Wild Dog, Wild Boar, Chausinha, Sambar, Rhesus Monkeys, Civet, Chinkara, Nilgai and Four-Horned Antelope. The birds found are – White-breasted kingfishers, Golden-backed woodpeckers, Tree Pir, Wood Pecker, Crested Serpent Eagle, Horned Owl, Bush Quail, Peafowl, Grey Partridge, and Sand Grouse. 

Added nearby attractions 
The ruins of forts, castles and temples in the surrounding areas throw light on the glorious history and have become added attraction of the park. Few of these prime attractions are The Kankwari Fort, Ancient Shiva Temple and Palace. The ruins of Garh rajor temple(built in 10th century) is scattered all over the forest. On the hilltop at Kanawari is a castle of 17th century that provides an excellent view of Sariska's avian inhabitants. At this fort Aurangzeb imprisoned his elder brother.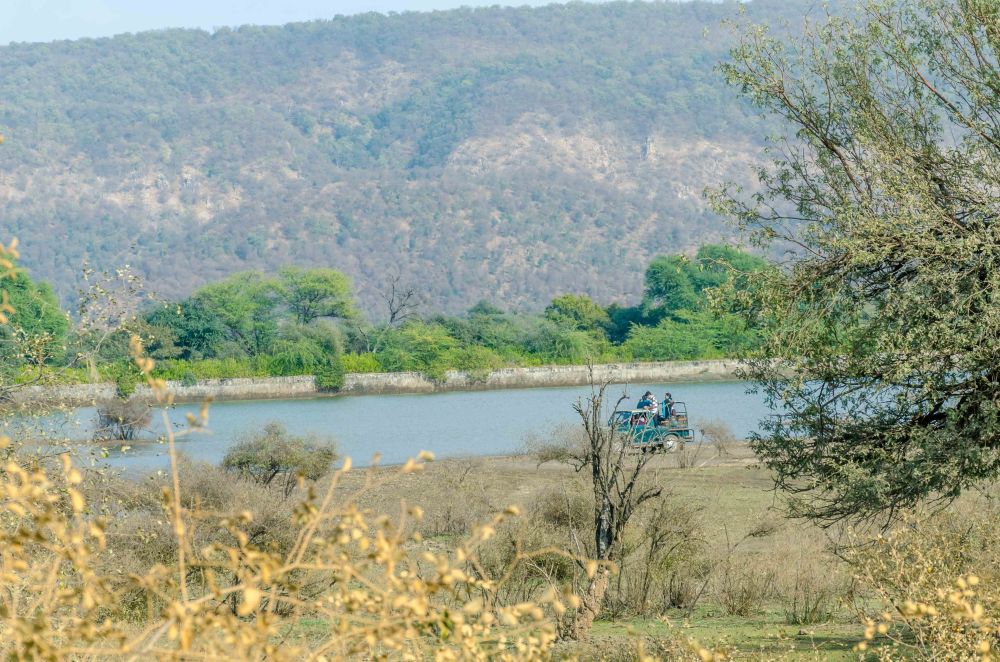 Beliefs about forests of Sariska
It is also believed that in these forests ages ago, exiled Pandava brothers took the shelter. They stayed here safe and sound until they reached the court at Viratnagar, which is 66 km away and lived there disguised as servants of the king. The only remains that testify this belief are the five boulders. It is also believed that it was in the forests of Sariska, where Lord Hanuman shattered the ego of Bhima, who was considered to have the strength of many thousand elephants. Hanuman in the guise of an old monkey lay across the road and when asked by Bhima to make way, asked him to remove his tail, if he wanted to move ahead with his brothers. But Bhima could not at all move the tail of Hanuman. In the same place, there is a temple dedicated to Hanuman in the human form. 
Things to do
Safari ride
The best way to visit the Sariska Wildlife Sanctuary and have a n opportunity of viewing the wildlife is ride by Jeep. This ride can be arranged at the Forest Reception Office on the Jaipur Road. This also gives you an opportunity of wildlife photography.
Ideal time to visit
The most suitable time to visit Sariska is between November and June.

Where to stay
Sariska is more of a tourist place than just a national park. For the tourists visiting Sariska , various arrangements for accommodation are available – there are forest lodges and hotels that were formerly royal residence of the Maharaja of Alwar. Sariska palace, Siliserh Palace Hotel, Hotel Lake Palace, RTDC Tiger Den Tourist Bungalow are few of the popular ones. The park is open almost whole year, best time to visit and view wildlife is from October to April.

How to reach
Sariska is mostly reached via Alwar(35 km ) or Jaipur(120 km away). The buses run frequently between Sariska and Alwar. The nearest rail junction is also at Alwar. It takes around three hours from Jaipur, by road. Jaipur is well connected by air, rail and road to most of the important cities in India. The best way to visit interiors of the park is by hiring a jeep or taxi.