When it comes to completing any St. Patrick's Day costume, the accessories are what can set them apart from what everyone else is wearing. Many of them can be used by men, women, or children. For example wigs and glasses that can get attention and help to transform the normal look of a person into something very original.
You can be as creative as you want when it comes to the accessories you use. There may be items around your home that you can use without having to buy anything extra. Should you need various accessories though they are really affordable.
Hats & Shoes
Tall hats are a huge part of any St. Patrick's Day outfit. For men they are larger than those for women. You can mix hats with any outfit though to create a look you are very happy with. Some hats are sparkly with shamrocks on them and others are plain.
You don't want to wear your regular tennis shoes with your St. Patrick's Day Outfit. Black buckle shoes or clogs are a great idea. Don't overlook the difference that the right shoes will complete the look with a terrific outfit. You might even decide to wear green glitter shoes with shamrocks on them!
Great Women's Accessories
There are some really fun accessories for women to use for a night of celebrating. One of them is a green beer mug purse. There is also a pot of gold purse available that works well too. Since you need a bag to carry all of your items around in for the night, you may as well have one that follows the theme for the evening.
There are green beads that work well with any type of outfit you may want to wear for St. Patrick's Day. There are light up necklaces that will glow through the night as you wear them. Other types of accessories including bows for your hair, long socks, belts, scarves, and bracelets can all help to complete your St. Patrick's Day outfit nicely.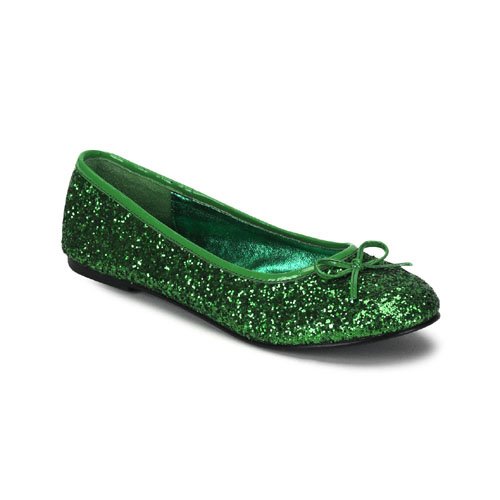 If you don't want to have a wig on, then consider decorating your hair. There are clips with shamrocks or Leprechauns on them. You will also find green strands of hair that you can put in. When clipped in place it will appear that you have colored some of your real hair green.
Accessories for Men
A fake beard can be a wonderful accessory for a man to complete his St. Patrick's Day costume. A pipe may be a good choice too depending on how serious he would like to look for the celebration.  Green suspenders are a very simple but effective type of accessory to wear. Or if you just want to have fun then a pair of beer goggles or shamrock glasses will help complete your costume.