Full Form of LLB :
Bachelor of Laws (or) Legum Baccalaureus (Latin)
LLB Full Form is Bachelor of Laws, which is also implied by the Latin term 'Legum Baccalaureus'. LLB is a professional undergraduate degree offered to students who wish to pursue their career in the legal profession. In the Latin language plural form of a word is usually obtained by doubling the first letter. For example, PP is used for referring pages. Similarly, LL is used for the plural of legum. This is the reason for having double L (LL) in the abbreviation. Let us explore more about LLB Full Form.
LLB Course Overview:
The Indian legal education system has been traditionally offering the LLB undergraduate degree of three years duration which comprises of Intermediate exam, Part I, and Part II exams respectively. After successful completion of the course, a student is awarded the degree Bachelor of Laws (B.L).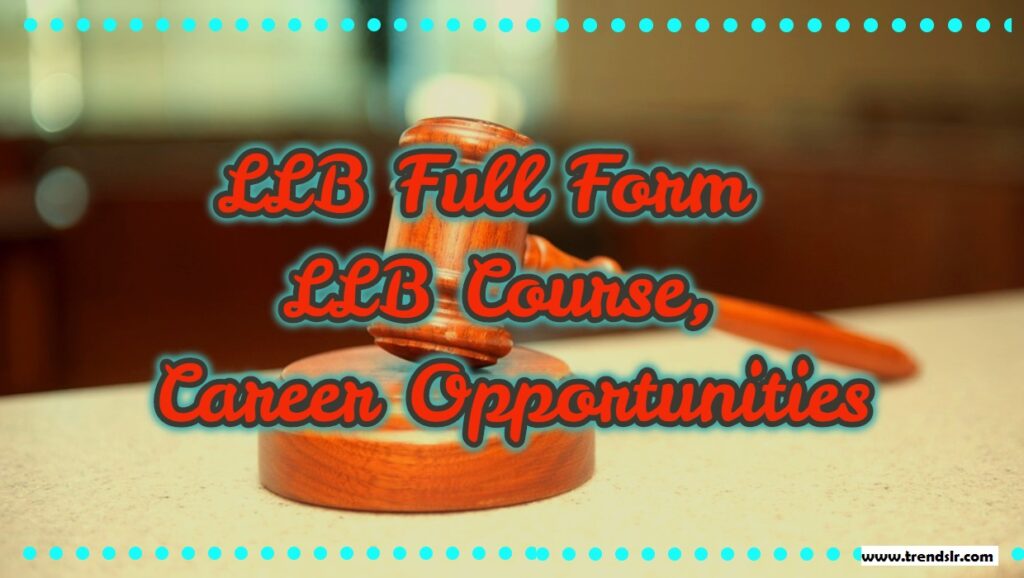 Eligibility Criteria for 3 years LLB Course:
The eligibility criteria for a 3 year LLB course are as follows:
Candidates should have completed 20 years of age.
Candidates should have completed a bachelor's degree in any discipline from a recognized institution with 50% marks or equivalent grade point average.
National Law Schools in India:
Traditionally, legal education in India was offered by the non-specialized educational institutions and universities which used to offer the law degree (B.L) like any other undergraduate degrees (like B.A, B.sc). There wasn't any specialized university for legal education in the country.
The universities awarding the law degrees were following the curriculum that was prescribed by Bar Council of India. Since these universities were under the supervision and control of the UGC (University Grants Commission), Bar Council of India couldn't implement any reforms in the legal education. This scenario continued for more than two decades.
Of late, Law Commission of India has suggested setting up law universities to improve the standards of the legal courses in India. The Bar Council of India has also been keen on having specialized national level law universities which should focus only on legal education in India which in turn raise the bar of the legal profession.
Accordingly National Law Schools have been set up in various parts of the country. The first law school was set up in Bangalore which is called as National Law School of India University (Popularly called as "NLSIU" or "NLS"). These law schools are considered as "deemed universities" which empower them to frame their own curriculum and award their own degree.
These national law schools are offering 5-year integrated programs and awarding honors degrees like B.A., LL.B (Hons.), B.Sc., LL.B (Hons.), B.B.A, LL.B (Hons.), B.Com., LL.B (Hons.),etc.. This enables students to study law along with another subject of their choice. For example, a student can study Social Sciences (Economics, History, Sociology and Political Science) in the first 2 years of B.A., LL.B (Hons.) course along with legal subjects like contracts, torts, and constitutional law.
Similarly, students who have enrolled for B.Sc., LL.B (Hons.) course can study Physical science, Life and Applied Sciences of the B.Sc course along with other standard law subjects during the first 2 years of their integrated degree program. Last three years of these integrated programs are devoted to legal subjects. Today, most of the Indian universities offer 5 years integrated LLB course. National Law School of India University, Bangalore is considered to be the best law school in India.
Eligibility Criteria for 5 years Integrated LLB course:
Candidates should have completed 20 years of age.
Candidates should have completed 12th class (10+2 class system) with 50% marks or equivalent grade point average.
Common Law Admission Test:
CLAT is a common, centralized test conducted primarily for admitting students to the National Law Universities in India. You can take this test after the 12th grade for the admission to the undergraduate program. This test can also be taken after the graduation for getting admission to the Master of Laws program. CLAT score is used by most of the private universities and colleges for admitting students to the legal courses. It is also used by Public Sector Undertakings for recruiting candidates for employment.
Before CLAT was introduced, the law schools in India were conducting their own entrance tests. The students had to take up each of these tests separately. The schedule of these tests often conflicted with various other entrance tests such as IIT-JEE (expanded as Indian Institutes of Technology Joint Entrance Examination) and AIPMT (expanded as All India Pre-Medical / Pre-Dental Entrance Test).
Students were facing a lot of difficulties in appearing for multiple tests. Finally, a Memorandum of Understanding (MoU) was signed by all the 16 National Law Universities in India (except for National Law University, Delhi) to admit students based on CLAT score. Common Law Admission Test is a two-hour computer-based test that consists of multiple choice objective type questions on Numerical Ability, Legal Aptitude, General knowledge, English Comprehension, Current affairs, Logical reasoning, etc.
Career Opportunities after obtaining LLB degree:
The law is an interesting career opportunity, especially now that Law is becoming an attractive option for many Indians across the country. The law is a prestigious professional field outside India and considered with great repute and respect. This does not mean that law is an unworthy profession in India; it is just a budding profession that is tardily but positively progressing to become a mainstream career option, like Engineering and Medical Sciences.
As mentioned earlier, every law aspirant would wish to crack the Common Law Aptitude Test (CLAT), which is an annual All-Indian Entrance Exam that opens gates to some of the elite government law universities, referred to as National Law Universities. While there are traditional law universities and private institutions, which offer law courses, National Law Universities are particularly targeting destinations of law aspirants.
The most prevalent course is the five years integrated undergraduate course, like B.A. LL.B. (Hons.) or BSc. LL.B. (Hons.) etc, but students may sit for entrance exams exclusively for LL.B. courses after finishing off with a bachelors' degree. Once you are done with LL.B., you are set to sail through the world of legal professionals. Unlike the stereotypes that show a dismal picture for law graduates, there are ample of career options available to law graduates and these options are not necessarily confined to the traditional form of litigation.
Litigation:
Many scholars consider that a law degree's true purpose is to serve the legal system and the most revered manner to do is the traditional form of Litigation. Enroll yourself in a State's Bar Council and start practicing. It would be advantageous if you practice under the aegis of any well-established lawyer, who can provide you essential assistance.
Establishing oneself as a practicing lawyer can be difficult, if you have followed the traditional manner of litigation, however, once you have successfully established yourself, you can earn at par with great lawyers like Ram Jethmalani, Kapil Sibal, etc.
Judicial Service Exams:
Many law graduates aspire to take the path to the judiciary. They see themselves occupying the coveted seats of judges and delivering judgments. These aspirations cannot be achieved easily as one has to go through Judicial Service Exams, which are regularly conducted by High Courts of the country, to fill up seats of Magistrates, Civil Judges, Metropolitan Magistrates, etc.
The examination pattern formulated requires from the candidates thorough knowledge of the law and logical application of the law on facts. Followed by a rigorous interview, candidates are expected to have adequate verbal skills and mannerisms, as expected from anyone who wishes to don the prestige of a Judge.
Legal advisors to companies:
Companies need a strong panel of legal advisors, who will be able to deliver them sound advice throughout the course of business and support them during any legal dispute. Many companies hire legal professionals for purposes like the drafting of contracts, conducting regular legal researches, etc. Generally, companies pay a hefty amount to their legal advisors.
Firms:
Firms are becoming most attractive targets for law graduates, who consider them as a financially secured environment to work at. It is fairly true because unlike regular practices, where financial status is not secured at early stages, a firm offers much wanted financial security to its recruits. There are many prestigious firms in the country like Khaitan, Amarchand & Mangaldas, etc that offer the handsome sum of money to its recruits.
UPSC: Union Public Service Commission:
UPSC Civil Examination is the most prestigious examination of the country, with a million students taking up the exam every year. Law graduates can take this exam and secure jobs as law officers, legal advisors, deputy legal advisors, etc. Along with financial security, you shall get other luxuries appended to such services.
Other options:
You can explore other options like specialization in a subject, be joining the profession of teaching, opening up your own law firm, or starting up a coaching institution. All you need to do is explore areas where you can apply your talent and skill effectively.
After completion of the under graduation of LLB, one can pursue the Masters Degree in Law (LLM) which enables a student to specialize in specific fields of law such as Property Law, Commercial and Business Law, Constitutional Law, Criminal law, Labour Law, Intellectual Property Law, Taxation law, Human Rights Law, Family Law, Corporate Finance Law, etc.
You can also pursue one year M.Phil degree in Law at NALSAR Hyderabad. There is a traditional Ph.D. program in law which is offered by many universities in India which include; National Law School Bangalore, NALSAR Hyderabad, Madras University, Bombay University, Delhi University, NUJS Kolkata, Calcutta University, Nagpur University, NLU Jodhpur, etc.
Career opportunities in government sector:
Apart from pursuing higher education after your LLB degree, you can also practice as an advocate in any court in India. The government sector also provides excellent career opportunities for LLB graduates. With a few years of experience, you can attain positions like a public prosecutor, attorney general, judge, solicitor general, etc. You will get opportunities to work with various departments of the government such as defense, finance, Income and sales taxes, labor departments, etc.
Career opportunities in corporate sector:
There are tremendous opportunities in the corporate firms as well for legal advisers. The companies are in constant search for the best legal minds in the country. If you have required qualification and talent in the legal profession, you can easily get a package of 15 lakhs to 20 lakhs per annum. In the past legal profession was limited to only civil and criminal litigation. But in the recent years, the job opportunities that are available for top level law school students are phenomenal. Especially after the economic liberalization in India, the demand for skilled lawyers has grown leap and bounds in the areas of infrastructure contracts, mergers, and acquisitions, corporate governance, banking and finance, debt restructuring, private equity deals, etc.
Award of LLB degree in various countries:
The term LLB is applicable only in countries like India, Bangladesh, Pakistan, Malaysia, New Zealand, South Africa and the UK. Other countries have derived their own terms of legal degrees for under graduation and post graduation. For instance, USA doesn't offer LLB degree. Instead, it offers Juris Doctor Degree (J.D) as the undergraduate degree in law. This degree is also known by the name Doctor of Jurisprudence degree. JD degree is presently awarded in countries like Australia and Canada as well.