Sweets play a very important part in the festivals in India and especially Diwali. This festival is considered one of the few main festivals in India and is celebrated across the nation albeit in different versions of course. It is important to note that Diwali is a weeklong affair for the people of Marwari, Marathi and Gujarati communities. For these mentioned communities, the festival of Diwali also coincides with their New Year as well. Hence, this is the best time for socializing and the importance of sweets can surely be understood.
Popular Sweets for Diwali:
There are many important sweets that are a must for Diwali. Some of them are made at home while other over the last few years has gained a lot of precedence. However, they are made professionally as they cannot be made at home due to expensive or rare ingredients. Some of the very common sweets are: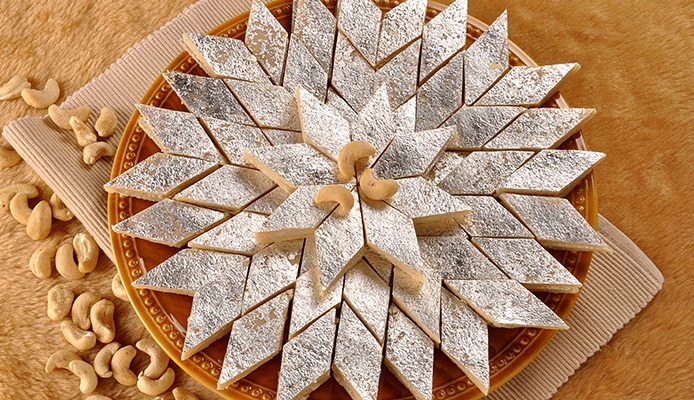 • Kaju katli (Kaju Katri or Kaju barfi) – a sweet made of cashewnuts, ghee and sugar
• Badam pista based sweets – contains fry fruits
• Gulab Jamun – balls of khoa and chenna fried and dipped in chashni
• Rasgulla – balls of chenna boiled in sugar syrup
• Anjeer kaju roll – contains anjeer and cashews
• Gajar ka halwa – a preparation made of milk, carrots and sugar
• Holige or Puranpoli – a sweetened flat roti or bread
• Adhirasam – made up of dal and chashni (sugar syrup)
• Moti choor ke laddoo – made up of sugar
The tradition of gifting sweets is also quite rampant and thus people get a lot of sweets. These sweets have common ingredients such as ghee, sugar, khoa, paneer, dry fruits and coconut. The sweets therefore are quite rich and yet they are very tasty. Off late, there has been a trend of gifting chocolates as well. To sum it all, Diwali is an occasion for all to gift and prepare sweets and pray for the well-being and prosperity of all.
If you liked the video, you can share with your family and friends using social network links provided on left like Facebook, Twitter, Google+, etc.