Full Form of PWD :
Public Works Department
PWD Full Form is Public Works Department. PWD is a department which has the responsibility to take care of public sector works in India. Almost every country has its own PWDs in state levels and sometimes at the city levels too. The key responsibilities include urban development, maintaining as well as building public premises, etc.
PWD also undertakes various complicated construction projects like fly overs, roads, and other public utilities. Other responsibilities include Design and development of bridges and roads, Development of tourists resorts, Water supply, License for usage of unused water frontage or roads, Property accommodation & management, Water supply and sewage, Construction of government buildings and accommodation.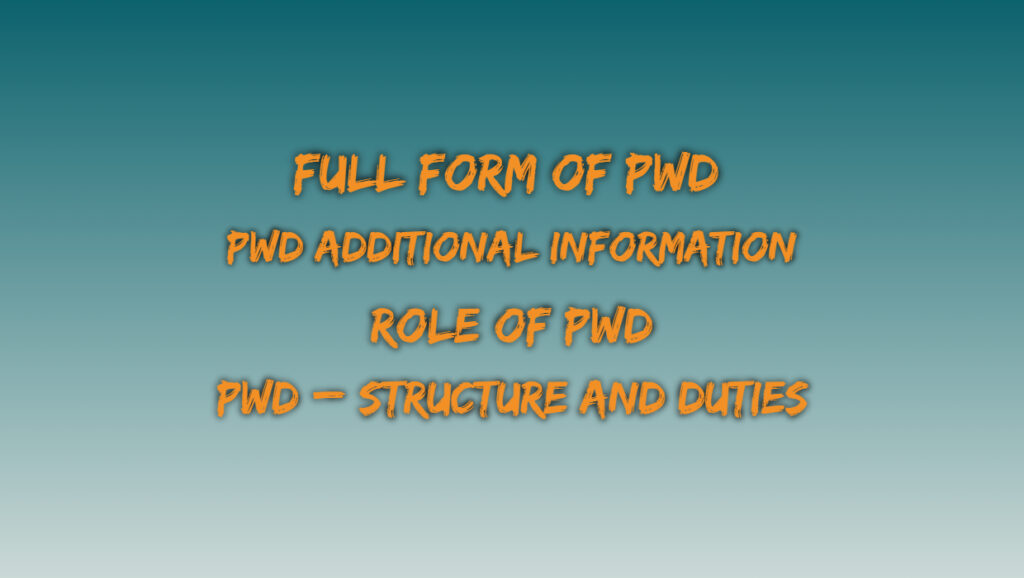 In India, PWD is categorized as CPWD or central public works department and state PWD. The states which have separate PWD are Arunachal Pradesh, Karnataka, Punjab, Utter Pradesh, Madhya Pradesh, Mizoram, Kerala and Tamil Nadu.
PWD Full Form – Additional Information
For any country to flourish in trade and tourism there needs to be a good infrastructure that can facilitate smooth movements. For this, there is a necessity of having good roads, highways, bridges etc that can effortlessly connect the various cities for commuting and development.
Role of PWD
PWD or the Public Works Department is appointed to create the above-mentioned facilities for the cities. It undertakes the construction of roads, bridges and maintenance of National Highways. Besides this, the PWD is responsible for construction and maintenance of Government-owned buildings and hospitals. Tourism being a major source of economy through the country, the PWD makes arrangements for the tourist stay in government Rest Houses. These are equipped with basic amenities to make the traveller's stay comfortable.
With the increase in vehicular traffic and the need for commuting to different states for work or other reasons, it is utmost essential to have a free flowing road without congestion. This brought in the necessity of having bridges over rivers and inland flyovers so that the people would find it easy to travel from one place to another without much trouble. Another important role that the PWD plays is ensuring that there is adequate water supply to the masses. This can be achieved by construction of dams and canals to channelize the water supply. Our country gets enough rainfall in some parts whereas certain areas face famine. Proper water distribution to all areas helps to tackle this problem.
PWD – Structure and Duties
The Public Works Department is state wise as well as a Central body. At the central level, it is known as Central Public Works Department. It is lead by Director General, who is also the Technical Advisor in the Government. To assist him there are regional and sub-regional heads, namely Special DGs and Additional DGs respectively. There are Chief Engineers who look after the zones in all state capitals. CPWD comes under the Ministry of Urban Development. The duty of these persons is to plan and commission different civil projects all over the country.
The projects undertaken by the Public Works Department are extensive and thus, they need to appoint outside contractors to execute the jobs. However, there is a process of selection of contractors and it is done through floating sealed tenders for the projects. This ensures that there is no favoritism and a deserving contractor is awarded the project that can run in certain lakhs or crores. Before any project is started, it needs to be sanctioned by the Government and a survey needs to be done to plan the work. Accordingly, they work on the budget and then appoint the contractor. CPWD is the agency that is responsible for Central Government specified work of planning, repairs, maintenance and construction of buildings and other works which are funded through the Civil Works Budget.
Classification & Execution of Work of PWD
PWD's work is classified in three categories – original works, repairs, and petty work.
"Original works" denote the new construction projects and alterations or additions to ready works, as well as any specific repairs to newly acquired or previously bought or discarded works.
"Repairs" indicate action undertaken to restore the buildings and works in suitable condition. Repairs can be of two kinds – Annual repairs and Special repairs. Annual repairs are jobs like color painting, white washing or distempering. These activities are carried out only on an annual basis.
Special repair is required when any damage is noticed and needs to be rectified like repairing the floor, changing broken doors or windows, plastering the premises, etc. These needs to be done as and when the problem arises or when it comes to the notice of supervisors.
"Petty works" refers to expenses occurred for small alterations or additions to residential / non-residential buildings or expenses on various items needed for road works.
After receiving the requisition for a particular work that needs to be accomplished, a preliminary working plan needs to be chalked out on the basis of which preliminary estimate can be prepared to ascertain the cost of the project. It is then sent for the administrative approval of the requisitioning authority. Before any project can be started, it has to fulfill these requirements:
Get the administrative approval
Get the expense budget sanctioned
Obtain a technical consent
Assigning or re-assigning of funds
How the system works
Undertaking any project in the PWD is not a small or simple task. There are many conditions and steps that have to be completed before the actual work starts. These are termed as pre-construction steps. There are almost 20 steps involved in the process.
Obtain requisition for work from the client.
Prepare a data of site and soil where the construction is proposed.
Preparation of preliminary work plan in view of the client's requirements.
Plan approval by the client.
Preparing the preliminary estimate and inspection by the Senior Architect.
Clients approving the estimate.
Preparation and submission of the approved plan to the Local bodies.(Municipality, etc)
Plan approval by Local bodies.
Preparing the introductory Structural Sizes.
Prepare service drawings
Prepare the Architectural drawings
Preparation of summary of detailed estimate and design review with client and incorporation of changes in any.
A detailed estimation for the main buildings and related services like Electrical, Civil and Mechanical.
Preparing the structural drawings
Formatting a draft for the work schedules and call for pre-qualification applications.
Select the contractors from the application list.
Hold a pre-bid conference and invite tenders.
Receiving the tenders.
Finalizing a party and awarding the work.
Invite applications and allot work for external and electrical services.
During the construction stage, the following are observed:
Managing the contract and executing the work, completing the project, testing and commissioning the work, obtaining Completion and Occupancy certificates from the Local bodies, handing over the completed construction to the client and finally settling the accounts.
Other works of PWD
Besides constructing roads, bridges, and flyovers, the PWD also undertakes projects of construction of residential and non-residential Government buildings, hospitals, air-terminals, etc. The CPWD was instrumental in preparing the various stadium venues for Commonwealth games, Asian games, etc. It is the responsibility of the PWD to ensure water supply to rural and urban areas. They maintain the State as well as National Highways and undertake road construction and development under district and state level. PWD also construct ports and terminals for easy transportation of goods. Public Works Department is the key entity that is responsible for bringing about development changes in a state / country.