Full Form of PDF:
Portable Document Format
PDF Full Form is Portable Document Format. PDF is a file format that is designed to display documents in a manner that they are not depended upon the kind of operating system, hardware, or software.
One feature of PDF documents is that they have the property to encapsulate details of a fixed layout flat document, along with all the necessary texts, graphics, fonts, and other details necessary for display. It was a system called Camelot, which developed into a PDF.
The world has become a more convenient place to live, as far as the technological innovations are concerned. The digitalization of the world has given way to a different standard of lifestyle that functions on gadgets and internet. Without these gadgets, it is difficult to imagine working in a conventional manner. From marketing to paper work, everything is on the system. All you need to do is purchase some minimum gadgets, which together give you access to the universe of quick and convenience facilities.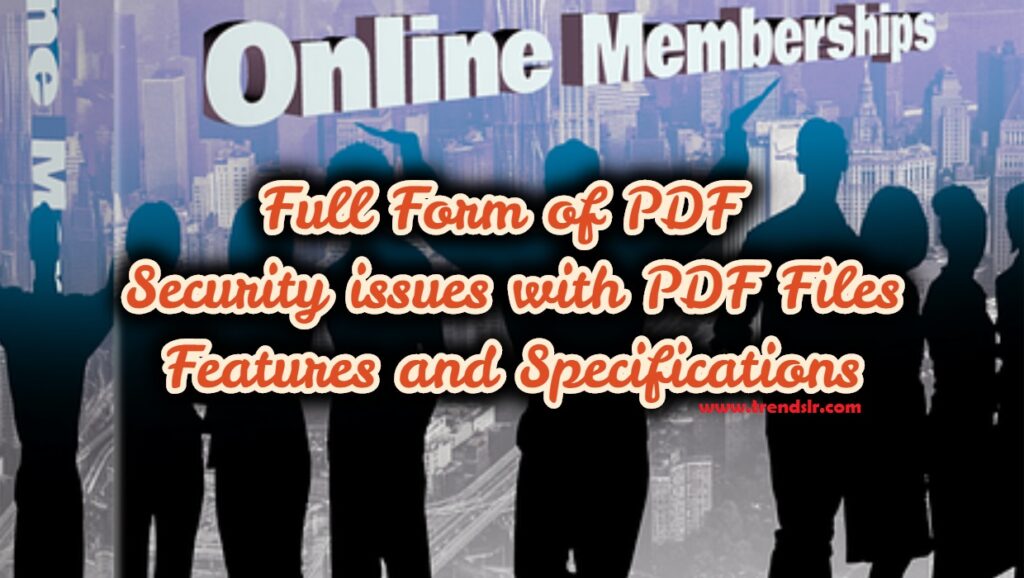 Paper work is a cumbersome task, considering the fact that it is tedious to maintain. This is due to its accumulating nature and vulnerability to damages or worse complete destruction. Moreover, it is impossible to recover the lost paperwork and you have to start anew. All of this has been significantly done away with by computer technology. Computer technology is now a big role player in the field of global change and with the help of its large variety of softwares and hardware; it has become an essential part of private and professional life.
PDF, also known as Portable Document Format, is an amazing platform that has greatly helped in the reduction of paperwork and improvement in the digital access of files. It has replaced traditional file formats and is becoming an excessively used format in the contemporary period. PDF has many utilities that have changed the manner in which we use digital files. Inclusive of independence, PDF provides to the users a much-wanted convenience in the use of digital files by making them portable. Some of the utilities of PDF are as follows:
History of PDF:
Technological innovations are premised upon needs and improvement. Because the world is driven towards a fast paced, convenient lifestyle, computer scientists have started to dwell on the possible way of improving the existing computer services. It is the need and desired requirement of having a portable file format that caused the invention of PDF, which now is one of the most popular file formats.
The history of PDF can be traced back to 1990s when other competing file formats like Envoy, Common Digital Ground Paper, Farallon Replica, and PostScript format have entered the market. People have slowly adapted to the usages of PDFs because earlier, Adobe was not providing software for creating of PDF files free and in fact, the earlier versions of PDF creating softwares lacked reasonable number of utilities. There were problems associated with such versions like slow download speed of PDF files, poor reading capabilities of PDF files, etc.
Later, Adobe started marketing its Acrobat Reader, which is now known as Adobe Reader, free of charge since the launch of version 2.0. Since then many developments have been made in the Portable Document Format and many versions of PDF creating and reading softwares have come up.
Security issues with PDF files:
One of the most important questions raised in respect of PDF files is security. The digital world is becoming exceedingly susceptible to security breaches, causing data and information stored open to thefts. Thus, the question regarding security inputs in PDF files is important.
A PDF file can have digital signature for authentication or encryption. Let us take up security standards provided by Acrobat Reader, which is one of the most commonly used PDF softwares in the world. The standard security provided by Acrobat has two different methods and passwords. The two passwords are user password and office password. The former deals with encryption of files so that they cannot be opened without permission whereas the latter restricts specific operations, where access to documents is restricted even though the documents concerned are not encrypted. In the user password, password cracking is needed in accessing the file. Therefore, it is advised that the password be rather difficult and its strength be strong.
Changes in PDF features and specifications:
PDF specifications have been changed consistently to improve their overall performance and utility. Some of the changes made in the Adobe's PDF specifications have been listed below:
In the first revised version, encryption facilities like passwords were added.

In the second version launched in the year 2000, new features like digital signatures; enhanced page numbering; new annotation types, masked images, DeviceN color spaces, Web capture, capturing information from the World Wide Web, etc were added.

In the third version, RC4 encryption key with length more than 40 bits; improvements to Forms Data Format; accessibility to persons with disability; facility that allows import of information from one PDF file into another, etc. were added.

In the year 2004, the fifth version was launched with features like 3D artwork; AES encryption; Open Type font embedding; NChannel Color Spaces, document sections for layered artwork; facilities pertaining multi language documents; assistance to rich text elements, introduction of PKCS#7 etc were added among many other features.

In the year 2008, features like 256 bit AES encryption, locale set typefaces, etc were added among many other features.
Technical issues involved in the use of PDF documents:
Although PDF is a great format, there are issues attached with it that pose questions to its utility. Some of the restrictions or issues with the use of PDF documents are enumerated below:
When a PDF is generated on scanning a hard copy document, then the so generated PDF document will not have the same structural display as the PDF files of the same document generated directly. The file size will vary and the facility to search within the content of a PDF file will not be available in this case. Thus, such documents cannot be used like other typical PDF documents.

Another problem with PDF documents revolve around accessibility. A PDF document is capable of having three different views, which may possibly be conflicting with each other. The three views are Physical, the Tags, and Content.

Despite having been designed to suit the needs of persons with disability, there are certain aspects of PDF documents that still remain inaccessible to these persons like tags and reflowing.

PDF documents are susceptible to viruses and this was first discovered in the year 2001. The virus was referred to as OUTLOOK PDFWorm or Peachy. Soon after, many other viruses were discovered in PDF documents that raised serious concerns among the computer scientists and users. The problem with PDF documents is that where a webpage contains a PDF file with viruses, it can take advantage of the PDF reader, which will in turn affect the information stored in the database.

A technical issue with display settings is also there, which up until today, remains unresolved. A PDF documents can save display settings and because of that, it has the tendency to override the user's settings. What is problematic is that there is no way to change these settings.
PDF Software:
Currently, there are many softwares circulating in the market that generally provide for free creation and reading of PDF files. Some of the options available for the users are LibreOffice, WordPerfect 9, Scribus, Adobe InDesign, Adobe Illustrator, Google Docs, the pdfTe typesetting system, Ghostscript, etc.
Processors known as Raster Image Processors (RIPs) are used in the conversion of PDF files into raster image format. A raster format makes imaging suitable on paper, printer, presses, etc. The whole process is called rasterisation.
As far as editing of PDF files is concerned, there are a few softwares available in the market that provides this facility. A little problem with these softwares is that they are comparatively expensive. Some of such softwares are Inkscape, SerifPagePlus, Enfocus PitSop Pro, Dochub, etc. These softwares are limited in number so users have little choices to choose from.
Annotation is a popular feature commonly found in developed PDF softwares, like Adobe. Adobe is one example that facilitates a user to highlight, annotate, and add notes on the PDF documents. Another software is XJournal that allows users to annotate and highlight in different colors and shades, adding interactive features to its software. It also allows features for underlining the text.
What is interesting about annotations in XJournal is that they can be moved, copied, or pasted. Then we have Freeware Foxit Reader, which allows annotations and is available for Microsoft Windows, OS X, and Linux. Another software is Qiqqa, which offers summary of annotations made in the PDF document.
There are also softwares available for annotations in PDF documents saved in mobiles. Some of these softwares are iAnnotatePDF, GoodReader, etc. These provide the ease of annotation as well as summary reporting of annotations done throughout the PDF document.
There are PDF softwares that available online like in the website Scribd for the purposes of viewing and storage; Zamzar, which is another website that hosts PDF software for the conversion of files into the PDF format; Pdfvue is another website that uses PDF software to allow editing of the PDF documents online.