Full Form of HTC :
High Tech Computer Corporation
HTC Full Form is High Tech Computer Corporation. HTC is a universally popular Taiwan-based company which designs and manufactures telecommunication devices. It creates the base design with a code name Hermes. Branded companies and popular networks like Orange, T-mobile, etc. acquire these basic devices and re-brand the same to sell under their name. HTC also offers devices under the same name in certain markets.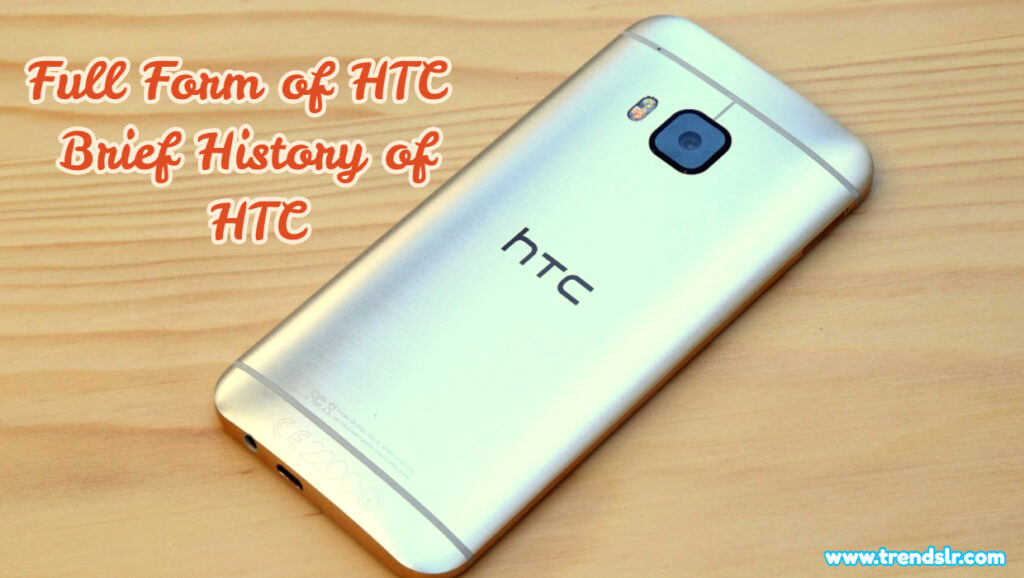 Brief History of HTC :
HTC was founded by Peter Chou, Cher Wang, and H. T. Cho in the year 1997. HTC started its operations by manufacturing notebook computers. Later in the year 1998, it started designing the first ever touch-screen and wireless devices. HTC was initially producing smart phones based on Windows Mobile. From 2009 onwards, it started making phones based on android platform and from 2010 it shifted the focus to Windows Phone.
Key accomplishments of HTC :
One of the major achievements of HTC was producing the first ever touch screen smartphone in the world. These smartphones were released in the year 2000. HTC produced the first Microsoft-based smartphone in 2002 and first ever Microsoft 3G Phone in the year 2005.
HTC is also renowned for the launch of the first Android device in the market. HTC dream was the first ever Android phone which hit the market in 2008. HDC is also the founder and member of Open Handset Alliance, which is a group formed by various network operations to develop Android device platform. The company once again entered the market of Tablet devices with Google Nexus 9 in the year 2014.
Devices manufactured by HTC :
Devices designed and manufactured by HTC include; smart phones, windows phones, personal digital assistant or PDA, touch screen phones, etc…
HTC Full Form: Henfield Theatre Company
HTC Full Form refers to Henfield Theatre Company, otherwise called as HTC, is a dramatic company with the base in Henfield. The company was established in 1999 with the collaboration of The Henfield Choral and Operatic Society and Henfield Players. Each year, the company presents 4 to 5 productions including musicals, plays, and pantos and all these take place in Henfield Hall. Every alternate year, the company also offers an open-air production, which takes place in gardens around the village.
HTC has over 250 members, expert musical directors, musicians, set designers, seamstresses, and costume designers, who strive to offer the works with highest standards. They have won various awards in the past years for their achievements.
Full Form of HTC: High-Throughput Computing
Full Form of HTC stands for High-Throughput Computing. It is the term that describes use of several computing resources over a long period of time in order to complete a computational task. It is the shared use of independent computational resources working towards a common goal. Here, all elements are effectively used to maximize computations.
The key to High-Throughput Computing is effective usage and management of all resources. However, high efficiency no more plays a big role in HTC environment, as scientists are happy with commodity CPUs as well as memory. Reducing distributed ownership of resources would help in expansion of the pool of resources to draw from. This will happen only when the distributed owners are convinced that their rights are protected and their needs are addressed.
HTC Full Form: Hamilton Technical College
HTC Full Form also refers to Hamilton Technical College. It is situated in Davenport, Iowa, United States. It was established in the year 1969 and the founders are Maryanne Hamilton and Charles. It was meant to be the Academy of Radio and Television or A.R.T. in Bettendorf. The college offers programs in various fields including Medical Assisting Technology; Electronics Engineering Technology; and Medical/insurance coding specialists.
The college has over 300 students and is accredited by ACCSC or Accrediting Commission of Career Schools and Colleges. With a well-defined philosophy, the college maintains high goals of providing high quality education with practical skills; dedicated faculty; and modern facilities to motivate the students to give their best.
Full Form of HTC: Hebrew Theological College
Full Form of HTC can stand for Hebrew Theological College. Initially called as The Beis HaMidrash LeRabanim in 1919 with 10 students, the Hebrew Theological College was officially established in the year 1921. It was chartered by Illinois State as an official institution for granting higher education granting various degrees to prospects. Established in Chicago, the college is committed to the progression of scholarship based on the principles of Orthodox Judaism.
The institute is dedicated to promote Torah learning, scholarship, commitment to principles of Orthodox Judaism, incorporate highest ideals of professional studies and general academia, embrace various Orthodox perspectives with the community, and more. Some of the key programs include; Israel Experience Program (IEP), Yeshivas Hakayitz, and Summer Zman.
HTC Full Form: Honky Tonk Confidential
HTC Full Form stands for Honky Tonk Confidential. It is an atl/retro country band that originated in Washington D.C. Honky Tonk Confidential plays both western and country music. Majority of the performances include clever originals and classic country filled with various cunning references that sound totally original and inspiring. The latest release of CD is a compilation and collaboration of 'Face of the Nation' anchor and CBS News Chief Washington correspondent.
HTC also contributed several songs to Christmas and baseball CDs released by non-profit 'Hungry for Music', which includes 'Nolan Ryan's Fastball'. This was conducted in 2006 widely as a part of Baseball Music Project and mainly comprised of baseball songs. Other popular albums include; Road Kill Stew and Other News; Who gets the Fruitcake This Year; Honky Tonky Confidential in 1999, etc.
Full Form of HTC: Hood to Coast (Relay)
Full Form of HTC refers to Hood to Coast (Relay). As the name implies, Hood to Coast Relay is a long-distance, overnight relay race, which is held in Oregon, United States. The event is conducted every year during August, typically on the Friday-Saturday that falls before Labor Day weekend. It is one among the world's largest and longest relays with 18,000 participants. This includes the High School Challenge Relay and Portland to Coast Walk Relay.
Hood to Coast relay has been in the 'bucket list' of several walkers and runners and like-minded people. For the past 18 years the event has been filled up with its participants team limit on the very first day. The entire course is about 200 miles or 320 km. The event has a limit of 1050 12-person teams.
HTC Full Form: Houston Technology Center
HTC Full Form stands for Houston Technology Center. The center is named to be one of the Twelve Business Incubators Changing the World' and one of the 'Ten Technology Incubators Changing the World', Houston Technology Center is known to be the largest business and technology incubator in Texas. The center serves as the merger of technological innovation, new ideas, and entrepreneurship.
HTC hugely creates and supports economic wealth in Huston, Texas by its tremendous support to business and technology in various sectors like IT hardware and software; NASA-based technologies; energy; etc. through coaching, networking, capital, customers, and other means of support.
HTC has more than 90 graduates and assists over 300 companies. The center has raised capital more than $2.5 Billion and has created over 5000 jobs. The core values of Houston Technology Center include passion, respect, integrity, mentoring, and entrepreneurship.