Full Form of ATM:
Automated Teller Machine
ATM Full Form is Automated Teller Machine. ATM is a computerized machine placed by the local banks in various places of a city or town to enable customers to access their accounts and perform certain banking operations. Depending on the country the term ATM has different names like; Cash Machine, ABM or Automatic Banking Machine, Cash Line, etc. Let us shed some light on ATM Full Form.
The world has seen a revolution in the economics of life. In our rudimentary stage of development, human beings adopted the barter system, where they would exchange goods. Back then, there was nothing called "money" and everything depended on the value and quantity of the goods exchanged. With time, human developed various methods of a commercial transaction from copper coins to paper notes. All of them have seen the economics of human beings develop.
However, a major breakthrough occurred when commercial transactions transformed from paper notes to plastic cards. Now these plastic cards have become essential in the monetary system of the world. Plastic cards, or generally known as ATM cards, are perhaps one of the most popular methods of engaging in quick, convenient commercial or non-commercial transactions. The advantages appended to the use of ATM are much to the liking of the modern, technology-loving world.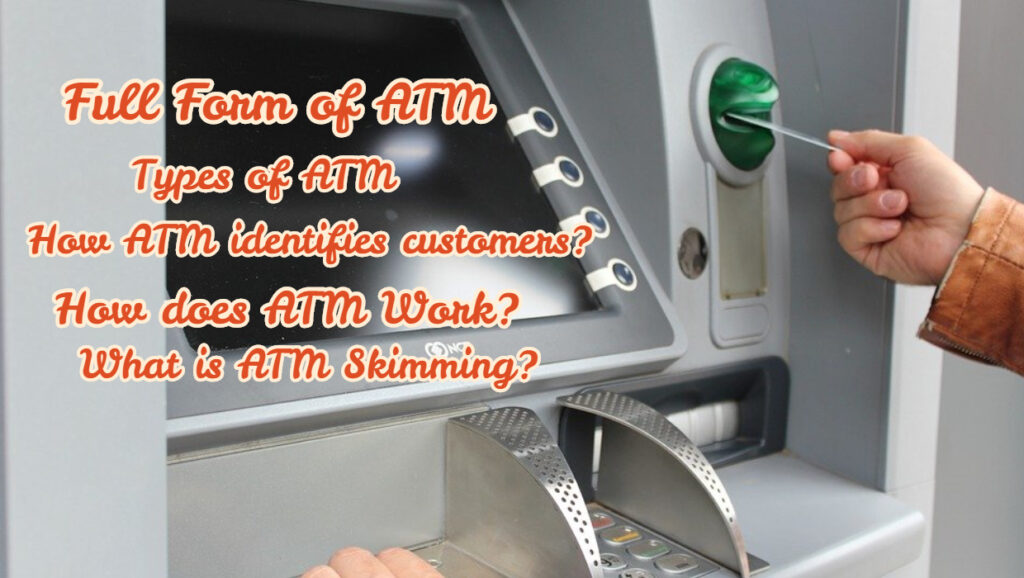 Definition of ATM:
ATM, the three letters themselves form quite a convenient term. Now that these three letters have become an inseparable part of modern economics, let us understand what exactly ATM refers to. ATM is an electronic device that enables customers of financial institutions to perform certain basic financial transactions like cash withdrawal without the aid of a cashier or clerk.
When customers use their ATM cards for any financial transactions, they can access their bank deposits or credit accounts to perform the same. Through an ATM card, a customer can perform transactions like cash withdrawal, mobile recharge, online shopping, etc.
Types of ATM :
There are two types of ATM machines:
Basic unit : It allows only to withdraw cash and get the reports of your account balance.
Improved or complex unit : It lets you perform all other tasks such as paying bills, transferring money, making deposits, etc.
How ATM identifies customers?
The most important tool required to operate an ATM a is debit card or credit card from the respective banks. These debit or credit cards have magnetic stripes, Card Verification Value (CVV) code and unique card number specific to each customer. With the help of these three factors ATM can identify each customer. However, the authentication to perform any transaction is to be given by the customer with his or her Personal Identification Number (PIN).
Parts of ATM:
ATM consists of the following parts:
Input Units:
Card Reader: The card reader of ATM captures account information of customers when the magnetic stripe on the back side of the card is swiped or pressed.
Keypad: Keypad enables customers to enter details like PIN, type of withdrawal, balance inquiry etc.
Output Units:
Display Screen: It displays the communication between ATM and the customer. You can see the question asked by the ATM and the input provided by the user displayed on the screen during each step of the transaction.
Cash dispenser: Cash dispenser is the one which gives you money after completing all verification process.
Receipt printer: This gives you the receipt of your transaction. The receipt may contain information like amount withdrawn, date and time of transaction and balance amount in your account.
How does ATM Work?
When the customer enters PIN, the account information is sent to the host processor. Host processor is a gateway through which various ATMs are networked. So the host processor sends those account information to a particular bank in which the customer has his or her account. If all the details are correct, then the amount requested by the customer is electronically transferred (i.e. electronic fund transfer) from the customers' account to the host processor account. Finally the host processor sends an approval code to the particular ATM machine to complete transaction.
How is an ATM card different from a debit card?
The terms ATM cards and Debit cards are popularly but wrongly used synonymously though there are differences between the two. These two differences are important for any customer of a financial institution.
An ATM is a pin-based card, which allows making purchases by entering Personal Identification Number. A Debit card is used in a similar way as an ATM card but the former will always carry a Visa® or MasterCard® logo on itself. This means a debit card can only be used where Visa® or MasterCard® debit cards are accepted.
Additionally, debit cards usually have a wider scope and can be used at many locations. Meanwhile, an ATM card's use is generally limited to the bank's ATM or any other bank's ATM with whom the former has a tie up.
How to withdraw money from ATM?
Withdrawal of money is one of the most commonly performed exercises via ATM cards. In order to withdraw money from an ATM machine, the procedures are utterly simple and time-saving.
The first thing to do is to insert your ATM card into the thin slide on the ATM machine. The ATM card must be inserted with the side having an arrow on it going in first. The ATM machine will scan your card and options will appear on the ATM machine's screen. Enter your PIN and proceed. Then, you select Cash Withdrawal option, then From Saving and then, enter the amount you wish to withdraw. Select Yes. Collect your receipt, if you have selected for one.
Safety measures while using ATM cards:
ATM cards may give you tremendous convenience but they must be handled with care and caution. They hold keys to your bank accounts and therefore, extra care must be undertaken while using ATM cards. Some of the measures one must take when using ATM cards are as follows:
Make sure you do not have anyone around you, while accessing the ATM machine. It is advisable that ATM machines at the corner of buildings should not be used as they have many blind spots, which can be misused by miscreants.

Do not use the ATM machine that shows the unusual number of options that you are unfamiliar with.

Do not share your PIN code with anyone. Do not allow people to peep, while you are using the machine.

Do not count cash at the machine or in public. Make sure you are in a quiet, private place when you count cash.

Carefully monitor all of your bank statements.
How to avoid ATM frauds:
The world is not a secure place to live. There are many dishonest persons and organizations waiting to swindle away your hard-earned money through fraudulent methods. Therefore, one must be undertake certain safety measures to avoid any fraud.
The same applies to ATM cards, which are exceedingly becoming susceptible to frauds. Therefore, certain safety measures must be undertaken to ensure protection to your money.
Make sure you regularly check your bank account. This is the easiest way to detect ATM frauds. Regular check-ups will keep you updated about recent withdrawals and transactions.

Do not use ATM machines that are located in isolated places.

A slow or lagging ATM machine is often a sign that the ATM machine has been tampered with and therefore, you should not immediately stop from conducting any further transaction from that machine.

Do not give PIN to anybody online. There are many spam and fraudulent mails send everyday to con people, by asking them to provide their PIN code.
What is ATM Skimming?
ATM skimming is yet another infamous method relating to ATM frauds. ATM Skimming is similar to identity thefts of debit cards. In this, the thieves make use of certain electronic devices that steal card information, including the PIN code, whenever a card is inserted into an ATM machines. The PIN code is generally recorded in spy cameras installed by thieves but use of false pads is becoming popular.
ATM skimming is a great problem, as it often goes undetected. Therefore, there are certain precautions ATM users must themselves take to avoid any mishap.
How to avoid ATM Skimming?
Some of the measures are as follows:
Always pay attention to objects attached to ATM machines or located close by.

In case the key pad on the ATM machines works oddly, like its keys are protruding strangely or there is an odd change of color between ATM machines and key pad, then there is a reason to suspect.

Check if the ATM is unusually tampered or broken from any place.

If the ATM machine prima facie looks fine, push at everything. Since ATMs are strongly built, they will not have any loose components and if they do, then you know what you have to do next.
ATM daily withdrawal limit:
The largest public sector bank of the country, State Bank of India, has placed the withdrawal limit of Rs. 40,000 and withdrawal limit of Rs. 50,000 per day. While other banks in the country have placed differential withdrawal limits per day, all the banks are still allowing limit of Rs. 10,000 per transaction. Such transactions are allowed five times a month.
History of ATM machines:
The first ATM machine was installed by the Barclays Bank in North London way back in the year 1967. However, it was only in the year 1968 that the world witnessed the networked ATM. The concept of Networked ATM was first explored by Donald Wetzel from the United States.
In the year 1969, the United States had its first ATM installed in Rockville Centre. The ATM was installed by the Chemical Bank and was designed by Donald Wetzel and the company where he worked, Docutel. In the year 1972, the world witnessed the installation of its first modern ATM machine. It was an IBM 2984 and was used at Lloyds Bank, Brentwood High Street, Essex, England.
Eventually, upgraded versions of ATM machines came into existence and what happened next is not too difficult to imagine; the use of ATM machines became ubiquitous.
Global uses of ATM machines:
ATM machines have brought in much needed relief from tedious, long hours visit to banks for simplest transactions. They have become ubiquitous in utility. The global uses of ATM machines are immense in numbers. Estimates show that approximately 2.2 million ATMs are operational, with 1 ATM per 3000 people in the world. In fact, despite these large numbers, populated regions, especially from the Indian subcontinent, demand more installations of ATM machines.
Uses of ATM:
The primary function of an ATM is to enable cash withdrawal without the need for a human assistance. However, they have evolved into a system to help customers to perform various bank related functions. Some of them are listed below.
ATM Helps you to pay bills like electricity bills, phone bills, taxes etc.

You can print bank statements and update passbooks.

You can transfer money from one account to the other. Money transfer can also be done between linked accounts. For example, money can be transferred from checking account to savings account.

You can pay the credit bills through ATMs.
ATM Full Form: Asynchronous Transfer Mode
Full Form of ATM refers to Asynchronous Transfer Mode. It is a concept used in the telecommunications field for carrying user traffic which includes voice, video signals and data. This concept was defined by International Telecommunication Union (shortly known as ITU) and the American National Standards Institute (shortly known as ANSI). It was basically designed for networks that should handle high-throughput data traffic such as files and also low latency contents like voice and videos. ATM encodes data into small sized pockets which are called cells. These cells are also known as ISO-OSI frames. These frames are having fixed length of 53 octets or 53 bytes.
ATM was so popular among computer manufacturers and telephone companies in the 1990s. Particularly, FORE Systems was more focused on delivering ATM products while companies like Cisco Systems provided it as one of the options. In 2005, ATM Forum which was promoting the ATM technology till then had merged with other forums and became the popular Broadband Forum.
Wireless ATM:
In Mobile ATM or Wireless ATM, transmission of cells takes place between base stations and mobile terminals. Mobility functions are executed in the crossover switch which is considered to be the core network of the ATM. It has high bandwidth and all the high speed handoffs are done at Layer 2. NEC Corporation's Research Labs and Bell Labs worked very actively in this technology in the early 1990s.